We just got back from New York and, ten days later, it feels like a hazy, crazy dream. Holidays throw me way off course, away from the relatively calm current of normal life and into another river – some with white water – until they spit me out on the other side and back into the main current. It usually takes me a few days to acclimitise – how exactly do I make my living? Then I drift along quite happily until the next one sucks me in, churns me up and spits me out again. I love it.
This particular excursion was full of rapids: New York doesn't do calm water.
Surgeon on a Plane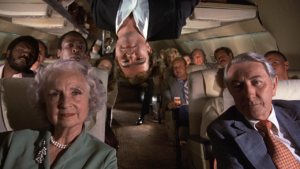 Our flight out of a freezing cold Auckland contained all the usual characters – you know, the cast you'd find on an "Airplane" movie. I swear there was a nun in there somewhere. This cast included an extremely handsome bloke with his extremely attractive wife and their extremely cute baby. They were a bit Stepford, to be honest. In the middle of the flight, lights out in the cabin, husband snoring by my side, Mr Stepford stood up and walked right to my seat, kneeled down and said "can I help?". "Sheesh", I thought. "I am having a good hair day but this is highly unusual". I turned to assure him that I was quite fine, when I realised he was speaking to the elderly lady behind me who had taken a turn and was lying in the aisle. This guy was a surgeon, naturally. The old lady was fine – I saw her at the JFK baggage claim and she looked better than she did when she got on the plane – I like to think all that attention from Mr Stepford did something to put a spring in her step.

70 is the New 40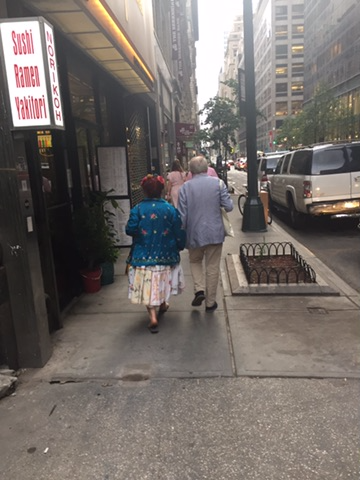 We met my inlaws in New York; they had travelled from their home in France. The main motivation for our trip was to celebrate my mother-in-law's 70th birthday. Before you start imagining a cute little old couple in their dotage, let me paint a picture. She's a freelance fashion editor who covers the couture shows and wears clothes so beautifully outrageous that strangers walk up to her in the street to tell her how fabulous she looks. I started counting these situations in New York, a place full of fabulous-looking people, and gave up on day two. He's a freelance writer specialising in music and pop culture, a sax player who once toured with Led Zeppelin and has authentic rock and roll real-life stories (Mike if you're reading this – why haven't you written a book about your life yet?). In summary, they are way cooler than I will ever be. When it comes to inlaws, I pretty much fell on my feet.
Take Me Out to the Ball Game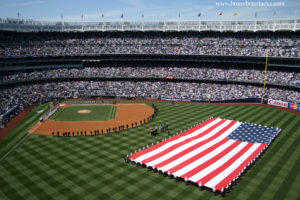 We got tickets to a baseball game at Yankee Stadium in Harlem. They were bought online through a third party. Tickets were issued electronically 36 hours before the game so when the email hit we were quietly relieved. Pouring out of the subway with the other 54,000 spectators, we held our breath as the old boy at the gate patiently checked us through using hubby's phone. And we were in. Massive and incredibly well organised, Yankee Stadium was everything I'd imagined. I even managed to find a glass of wine (it wasn't easy; wine-swilling baseball fans are not that common but I was dedicated to the cause). The crowd, the hot dogs, the beer, the popcorn, it was all exactly as I had pictured. What I didn't anticipate was the brilliant soundtrack. We got God Bless America (gospel choir, I am no patriot but there may have been a tear or two), Take Me Out to the Ball Game,individual players' walk-up tracks (each player gets to choose their own) and of course New York, New York for the final out. Throw in a little YMCA for the ground crew, complete with actions, and it was an eclectic mix of streetwise cool and patriotic cheese. At one point a ninety-something year old veteran was wheeled out – Billy from Brooklyn – to God Bless America. The whole crowd sang along and Billy looked delighted.
Speaking of veterans, from our seats on a pretty high tier, we watched Aaron Judge hit a ball directly into the crowd, smacking an elderly gentleman in the head. There was blood, spousal hysterics and plenty of paramedics. But actually I think the worst thing was that, while he was lying down being attended to, the Yankees scored their first home run and he missed it. The ying to that yang was the standing ovation he received when he walked out of the stadium, swathed in bandages and clutching the fateful baseball. Yankees fans are tough.

Coney Island Google Babies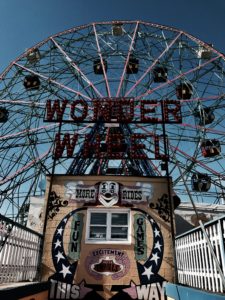 One day, we went to Coney Island, around 45 minutes on the subway from Grand Central. The beach is clean and cared for, with free sun lotion dispensers dotted along it (take note, NZ). The main attraction at Coney Island is the amusement park, which boasts the Cyclone, a 1927 wooden rollercoaster. On this particular day, Google had the place booked for the morning so as we queued for tickets, waiting for all the geeky hipsters to vacate the premises, we had plenty of time to contemplate the Cyclone. I decided it should be our first stop (get it over with). Turns out, my nerve has diminished significantly since I last went to a theme park and wooden rollercoasters are deeply terrifying. My eyes were closed throughout and the idea of putting my hands in the air (like so many others were doing when I briefly opened my eyes) was about as feasible as flying to the moon. Luckily, Coney Island offers rides of all extremes so our day was packed full of sunshine and screams, a riot of vibrant colour and sights – and more ice cream than is strictly necessary.
Do Ya Think I'm Sexy, Picasso?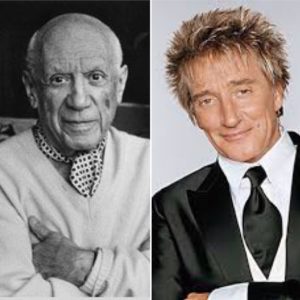 While we were at Coney Island, the inlaws had spent the day at the Metropolitan Museum of Art, a stark contrast to our day. I got a little FOMO and so the next morning I took myself off to The Museum of Modern Art (MOMA – so you could say I was FOMO for MOMA), an amazing building jammed full of amazing pieces, more than I could digest in the few hours I had. I learned about Robert Rauschenberg and Frank Lloyd Wright, and MOMA's collection galleries offered works I had learned about in school: Van Gogh's Starry Night, Picasso's Les Demoiselles d'Avignon (much bigger than I imagined), Warhol, Cezanne, Pollock.
MOMA provided a serene, air conditioned and beautiful oasis in the middle of steamy, crazy Manhattan. Meeting up with everyone else near Central Park later that day, I was told they'd seen Rod Stewart buying a watch in Bloomingdales. I experienced another FOMO moment – Rod Stewart holds a weirdly important place in my personal history – and then figured I was happy to have spent time with Warhol's Marilyn, Frida's self-portrait and those five prostitutes Picasso fell in with: they all looked like they knew how to have a good time.

Sesame Street has Nothing on Central Park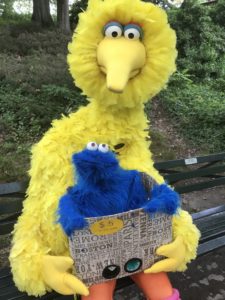 Sunday afternoon in Central Park and we strolled amongst the lovers, the nutters, the dancers, the skaters and the hustlers. I have a soft spot for pretzels covered in salt, easy to find in New York, hard to find in New Zealand, which is definitely a good thing. Having stopped to admire the incredibly agile senior disco skaters and suggesting to our 14 year old daughter that I might just join them (the look of horror on her face was something I shall cherish forever), we stopped to listen to a young opera singer. She was standing in a tunnel providing amazing acoustics, just by the boating lake. Her rendition of Ave Maria was magnificent; there wasn't a dry eye within earshot.
Continuing on, we stumbled upon a solitary figure sitting on a park bench in a quiet corner of the park. He was very large, very yellow and extremely feathery. Now, when I was four years old and at kindergarten, my teacher took my mother aside and told her that a very important TV show was about to hit our screens. She should ensure I watch it and if possible she should watch it with me. So began my love affair with Sesame Street. Therefore it was natural that, when presented with the actual Big Bird, I fangirled out in a pretty major way. On closer inspection, I saw he held a large box with a sign that suggested a $5 donation. I can only assume this was to pay for his journey from Sesame Street to Central Park because make no mistake, this was the real Big Bird. Frankly it could have been $50. I approached, five dollar note in hand, and …. wait for it … COOKIE MONSTER POPPED UP FROM THE CARDBOARD BOX AND TOOK THE MONEY. Please tell me you find this as mentally delightful as I did. Cue more delighted screaming and Big Bird and Cookie Monster sprang to life, inviting photo ops and telling jokes. I found myself wondering fleetingly if I had any cookies about my person. We definitely made a connection. I could have stayed there all afternoon too, if it hadn't been for those pesky kids queuing up to meet them.
New York is Always a Good Idea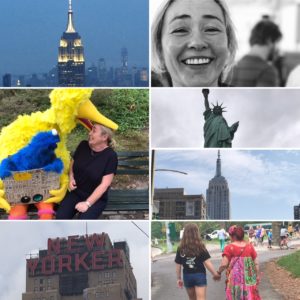 Although this New York was very different to the New York I used to know, when my husband and I would bar-hop through the night and make friends with all manner of strangers along the way, I'm still in love with it and the people who live there. I love it all: the cliched steam rising up from its underbelly to the smell of hotdogs and traffic, the casual, balletic way pedestrians avoid each other as they barrel down 5th Avenue, the angry bus drivers (seriously, who would do that job?), the diners run by wisecracking waitresses and take-no-shit busboys, the subway full of Native New Yorkers who are surprisingly considerate of each other, the yellow cab drivers who creep over zebra crossings while you're still trying to cross the road: the sheer energy of the place is all-consuming. You have to be on your toes in Manhattan. On our last night, we stood on top of the Rockefeller Centre and surveyed the place from all angles. I couldn't find a bad one.