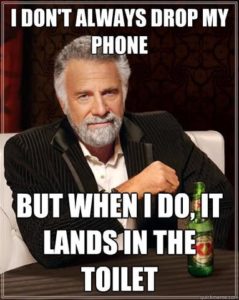 It was a busy night. A netball game to watch, a basketball game to watch, on my feet all night and not a public convenience in sight. Subsequently when I pulled up outside the house I ran, as quickly as someone with a full bladder can run, to the bathroom. Suddenly, I heard a sound. Something unnatural had hit the bowl. As far as I knew, it had nothing to do with me. Physically, at least.
And there it was, my iPhone6, brand new case, sparkling up at me from the depths of the toilet bowl. I hasten to add that proceedings had not yet commenced so it was "clean water" (as the woman at the insurance company so tactfully put it). This was small consolation at the time. I yelled an obscenity in a voice which suggested the dog had been run over, and my husband and daughter immediately assumed some medical emergency had befallen me in the bathroom.
I grabbed the phone, pulled the case off, and water streamed out of its every orifice. I flicked it around for a bit, producing more water, and did an on-the-spot panic dance which I'm sure I learned off the telly, watching a National Geographic documentary about a Namibian tribe. At this point I'm not sure if I was fully dressed, potentially adding to the whole African Tribal Dance theme.
Into the kitchen, I threw the pantry door open: thank God I always keep a tupperware container full of basmati rice for these exact occasions. I plunged the phone into the rice whilst chanting a Mantra to the iPhone God (is that Steve Jobs?), closed the lid and sank down at the kitchen table, head in hands, like someone who's just had the police round with some very bad news.
The next day I called our insurers who informed me that, because this would be the third phone claim under our policy (don't ask) they'd need the deeds to our house, a lock of hair from our firstborn, the love and devotion of our dog – and the right to ramp up premiums so much we'd need to remortgage.
Yeah, nah.
A week or so later and the phone still rests in a bed of basmati: I take it out sometimes but last time the charger didn't fit in the port. I think a piece of rice is stuck in there somewhere. I now rock a hand-me-down iPhone5 with a fetching Wonder Woman case, which seems a bit misleading: pretty sure WW didn't lose anything she shouldn't down the loo.
It's a seriously first world problem. The cloud has me covered with all the very important stuff, and I just have to squint a little more than usual at the teeny-tiny screen.
And when I get round to it, I'm sewing up the back pocket on all my trousers.